Don't forget- you may click on a picture to make it larger.
1/25th Kit Review: TV and at the Movies Dec 2015 / Jan 2106
Did I get a model for Christmas this year?…NNNnnnnnnnnNNNNNnnnnOOOOOOOOOoooooooo!!
But that's okay. I had time off from work and had my own fun 'at the movies'. I built and completed 6 models all based on TV and the movies. The kits I built were:
1. Back to the Future (Kit: Polar Lights Mark II-Snap Kit)
2. Ghostbusters (Kit: AMT Ecto-1A)
3. Monkees Mobile (Kit: MPC MonkeeMobile)
4. Dukes of Hazzard 'General Lee' (Kit: MPC with Confederate flag decal)
5. Batmobile (Kit: Polar Lights – Snap Kit)
6. Flintstone mobile (Kit: Lindberg FlintMobile – Snap Kit)
Please note- I worked production style. All except the Batmobile and DeLorean needed painting on the outside bodies. I was not going to try to repaint the Batmobile in its shiny black with red trim stripes. It was good enough for me. And the Stainless Steel finish on the DeLorean is beyond incredible. Absolutely fantastic.
While some bodies and the paint were drying, I would work on the interiors or exteriors like the top rack of the Ghostbusters.
All had some 'issues' – many older kits/molds of course – but nothing that had me grumbling. I did what needed to be done to have fun putting these together.
Here are the simple supplies I used:
1. Spray cans for the outside bodies of four (4) of the models
2. Hand painted all other items.
3. Lots of wiring (DeLorean and Ghostbusters)
4. Home made decals – particularly for the inside of the Ghostbusters.
5. My red, blue, green etc clear Tamiya paints for lights.
6. Clear coat- water based-and hand brushed over the chrome, lights etc.
But please tell me- why why why why why did I spend $30.00 on a Flintstone Mobile!!! AAAAaahhhhhhhhh….the other kits were all less than $30.00. I hope none of you ever admit to sinking this low on model purchases (laugh). Thank good ness for my home made leopard and zebra skins to enhance this super duper simple 'wood and stone' model (19 parts!!).
I did get to thinking – did Bo and Luke Duke work for the United States Geological Survey branch of the government before they moved to Hazzard County? I mean – the General Lee is orange…..ha ha ha …..
I also came across a website that lists all vehicles used in movies since the 1920s I think. Even if one was seen for 1 second- they listed it and have a picture. I better not visit this site too much…..will give me more ideas on making thousands of models from the
TV and movies……or only the orange ones?
That's it. I'll let the pictures tell the story and the results. All were fun, easy and fast.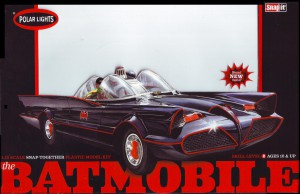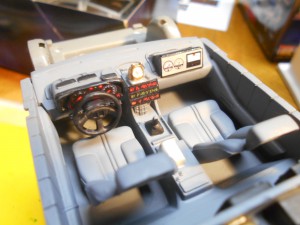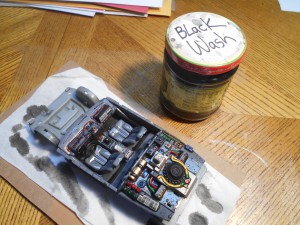 I made a better hook than the kit had:
All of my vehicles get the cheap poster paint flat black on doors, hoods, trunk molded in recesses etc…
Is this the next Bo and Luke TV series?…..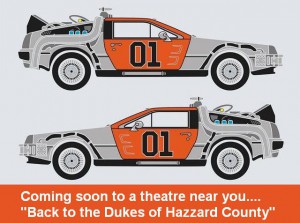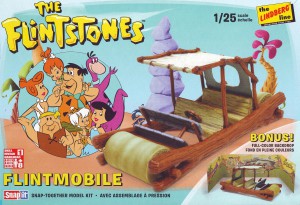 Oh this kit tested the wit of my modeling skills- "…Wilma !!!!!!!!!!!!"……
This inside of the vehicle cried for extra super details…..but who was I gonna call???…."Ghostbusters ???"….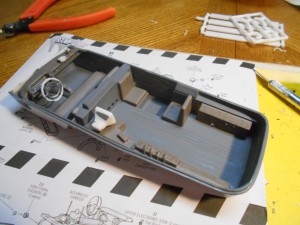 I just came up with my own decals for the gizmo's inside…
The external top rack cried out (or was that a ghostly wail??) for gauges, wire etc…
The clear supplied major top lights should all be blue…..my 25 year old bottles of Tamiya clear blue, red, green etc still work great….the kit also DID NOT supply a ladder. All the movie vehicles had one so I made a simple one…..