by John DeRosia
(Note- you may click on the pictures to get a larger resolution.)
I confess! I was drooling when I first heard the rumor that the Renwal LaCrosse 1/32 scale kit was to be re-released again. I just got it in the mail and paid a little more than $30 for it. Still not bad when you see small scale kits going toward the $100 mark. This being a 50 year old kit (give or take 3 weeks?  ) – to me it is right up there to the quality of modern kits – without the 56,345 parts!!!!!!
After 3 days with the cellophane  still on it- the plastic was screaming to get out.
Being a good humanitarian plastic modeler- I finally let it out of the box. Oh it was so happy- well—-err—okay- so maybe it was me being happy. Mind you, I built this kit many many many moons ago. I still have it. But where in the basement- that's something for Indiana Jones to have to find. Having much more experience, I can't wait to compare them when the other kit is found. I have almost convinced myself that I have a little bit more experience under my belt in the plastic world.
My initial plans are to basically build it out of the box. Maybe add a few wires, cables etc….but nothing fancy. So far- this one, like the other re-released Renwal kits I have built in the last few years or two has not disappointed me.
It is almost close to flash free, re-molded in Poland, and the details on the parts is outstanding. So is the fit of parts. Another secret I can confess to you is that I just love the military 'Deuce and a half 'trucks (and 5 ton variants) of that era. I grew up as a U.S. Army kid and these were my everyday kinds of trucks I would see.
The only comical thing to me are the figures. They sure knew how to do advanced molding of parts back then- but they were still in the infancy of being able to mold human looking figures. No big deal to me- I don't do figure so no negative thing to me.
Here are a few pics of the first 15 minutes of gluing parts. I never go in instruction / assembly order- so started with the missile platform first. I'll add pics as I go.
Enjoy!!
John D.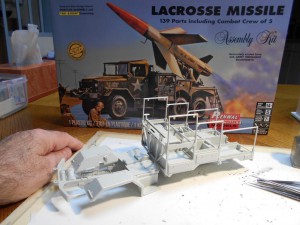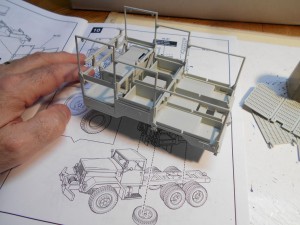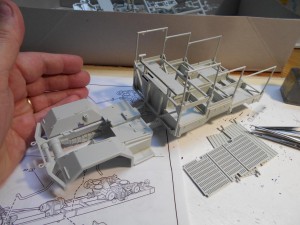 Some more progress pictures: Week of March 21-25th)
Paint is wet-but almost done. then have to paint missile, do decals and weather!
Almost done now…..
and finally……
Here is a short 1:56 video also for you to see better 3D detail:
Video: