Reviews
Armor
Tamiya British 7ton Armored Car Mk.IV
by Andrew Birkbeck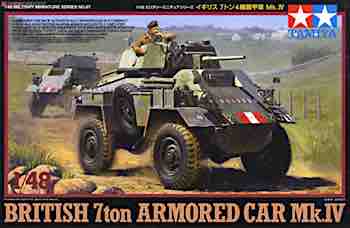 Model: British 7ton Armored Car Mk.IV
Reviewed by: Andrew Birkbeck, IPMS # 27087
Scale: 1/35
Company: Tamiya
Price: $22.50
Product/Stock #: 32587
Website: Tamiya
Product Web Page: View
Product provided by: Tamiya

The Kit
The latest in Tamiya's range of 1/48th scale military vehicles is what the firm lists as a "British 7ton Armored Car Mk.IV", while the correct designation is in fact "Armoured Car, Humber Mk.IV", so I presume the lawyers found that "Humber" was a protected trademark and Tamiya didn't want to pay for the privilege of using it! These vehicles were to be found all over Italy and NW Europe in British, Canadian, Polish etc units, as well as training units in the UK, from 1943 onwards.
Gone are the days when Tamiya incorporated a cast metal hull piece or lumps of metal to attach to the hull interior of their 48th scale military vehicle range. This kit includes only injection molded plastic parts of a dark green color, plus a small decal sheet. No cast metal, no photo etched, no clear injection plastic parts. Detail is good for this scale and there are no visible ejection pin marks that need removing, nor any flash on the parts.
Construction
Construction begins with the gluing of the main upper and lower hull parts, B44 and B17. The modeler then attaches the left and right side hull parts, B47 and B48. It is very important when building this kit to find some good photos of the real vehicle, so that you get the necessary "step" required with these two side hull parts. Tamiya themselves point this out in their instructions. Take your time and test fit and study the photos before applying your glue.
The underside of the vehicle is adequately served with a four part suspension/drive train/steering unit. The leaf springs are molded integral with the lower hull, part B17, mentioned earlier. There is a separate muffler and exhaust pipe unit. The four mud guards are separate parts, and the vehicle appears to have come with two hydraulic shock absorbers for the front wheels, and these are included as separate parts. The tires and hubs are two piece affairs, with decent tread detail for the scale. Mounted on the mud guards are various small parts such as a two part headlight, tool box and petrol tins. The latter could probably do with having their solid carrying handles being replaced by separate ones, but I left mine as is. The external onboard tools such as a shovel, pick axe head, axe handle etc, are separately molded parts.
Next we turn to the turret, and the main gun of the vehicle was the US 37mm cannon, and the kit molds this as one piece, and the modeler will need to insure that the seam line on this part, B45, is very carefully removed while keeping the shape round. The auxiliary turret machine gun needs its barrel carefully drilled out. The two upper turret hatches are separate parts, but if the four part commander figure is to be installed in the hatch, the commander's hatch needs slicing in two and glued appropriately according to the instructions. The spotlight on the turret is a two part affair, but it would have been nice if the lens had come as a clear part.
Painting and Weathering
To my mind Tamiya has done the modeler a big disservice by including only one color and markings option with the kit. As mentioned earlier, this vehicle was used by many British and Commonwealth combat units in NW Europe and Italy, plus Polish units. Post war it was used by the Netherlands, Denmark, Burma, India, Mexico and Portugal plus a few other nations. Yet all Tamiya provides is a generic "Polish 1st Armoured Division" listing for its markings. Some research on the internet indicates that the Tamiya choice is in fact for a unit training within the United Kingdom during 1943, NOT 1944 in Europe as Tamiya indicates in their instructions. And with virtually no aftermarket decals available for 48th scale military vehicles, this leaves the modeler in a bit of a bind. Basically every built up example of this model will have exactly the same markings. It might also affect sales, as I am sure the demand for "Polish WW2 Subjects" isn't foremost in many modelers' minds? However it does leave an opening for someone with the research material to do an aftermarket sheet!
Tamiya lists the color for their Polish Humber as SCC15 which is what I airbrushed the review model. I utilized this color from the Ammo by Mig acrylic brand of paint. I painted the tires by brush with Vallejo Dark Rubber. The on board tools were painted separately by brush utilizing various Vallejo colors. Once painted in its base color, the model was given a coat of Future acrylic floor compound, and the decals applied over the gloss surface. The decals conformed well to the model utilizing my usual decal solvents from Gunze Sangyo, the blue top bottle and the green top bottle. I then sealed the decals with more Future once they had dried overnight.
Next came a wash of dark brown oil paint from the Mig range, to make the raised detail pop, with the excess removed with a Qtip dipped in mineral spirits. Once the wash was given a few days to dry, the hull, turret and five wheels (all of which I kept separate at this point) were given a coat of Vallejo Matt Varnish to seal things. I then did a little drybrushing with Naples Yellow oil paint to pick out the raised details. I followed this up with an application of the "oil paint dot" technique, where you get a range of (in the case of this dark green model) green and yellow oil paints, and put little dots on the various surfaces, and then "blend" them into the surface with a paint brush dipped in clean mineral spirits. This produced a nice effect to my eye, almost an "impressionist" look. Once all this dried, I applied another thin coat of Vallejo matt varnish. Then I did some paint chipping via a pointed small brush, and also utilizing a small piece of sponge, and some Vallejo Black Gray paint. Then I utilized a couple of oil paint rust hues to add some interesting color to the model. All followed by another thin coat of matt varnish. Finally, I applied some mud. I found two suitable colors of enamel paint weathering compound from the AK Interactive range of weathering products, and mixed each in turn with some plaster of paris. First a light dusty tone, then a darker damp tone. Using an old paintbrush I dipped it in the mud mixture, and then with my airbrush cranked up to 25 psi, I blasted the tip of the paint brush of mud with air from the airbrush, splattering the mud in the desired areas. On the wheels, I took some mud brown colored pigment, and mixed it with Mona Lisa odorless mineral spirits. This was brushed into the tire tread and left to dry. I rubbed off the excess with Qtips and my fingers until I got the effect I was after. When everything had dried overnight, I airbrushed a final coat of Vallejo matt varnish to seal everything.
Conclusion
This kit has a very low parts count, and can easily be built over a long weekend. Thanks to Tamiya's reputation for great parts fit, it would make a great first model for the novice or a pleasant relaxing build for the experienced modeler. I spent far more time painting and weathering the kit than I did building it. The end result is a very nice little model to add to my collection of WW2 48th scale military vehicles. My only complaint is the lack of color and markings options. My thanks to TamiyaUSA for allowing IPMS/USA a chance to review this excellent addition to the Tamiya range.
Photos