Reviews
Tools
Valejo Thick Mud Weathering Effects
by Eric Christianson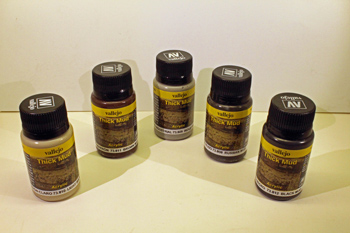 Paint: Thick Mud Weathering Effects
Reviewed by: Eric Christianson, IPMS # 42218
Company: Valejo
Price: $3.75 Each
Product/Stock #: 73.807 – 73.812 (6 paints)
Website: Valejo Paints
Product Web Page: View
Product provided by: IPMS

Review
We live in a Golden Age of modeling, we do. It seems that not a day go's by before some new product is offered to plastic modelers. This time around is a new set of excellent diorama weathering effects offered by Vallejo called 'Thick Mud'. As the name suggests, each of six varieties offered contains a different shaded sludge mixture that looks, acts, and cleans up like mud.
This is the stuff that we have all tried to perfect; using water, paint, pigments, real dirt, fine sand and some kind of fixing agent. Vallejo has simply taken the guesswork out of it for you, but they've smartly rendered the concoction in an easy-to-use-and-clean-up acrylic medium.
The set includes the following shades:
73.807 European Mud –
this is probably the closest shade of the kind of mud that I am used to up here in the Pacific Northwest. It can best be described as light-brown in color.
73.808 Russian Mud –
I would characterize this as Black, but then I might get it confused with a still blacker mud below. This mud is certainly a very dark brown.
73.809 Industrial Mud –
A light greyish shade, almost like wet cement.
73.810 Light Brown Mud –
This takes the cement-colored mud above and adds a yellowing tent to it, easily the lightest color in the bunch.
73.811 Brown Mud -
This is darker and browner than European Mud, and offers a nice middle ground to the other shades.
73.812 Black Mud –
this one is Black. Sludgy black. I'm not sure where I am going to use this, but when I need something really black and dirty, I'll know where to find it.
The mud has a consistency of imported brown mustard. Don't bother shaking the bottle; nothing is going to move around inside if you do. While you can thin it with water, doing so defeats the purpose, since the result is just a runny, dirty, mess. Like watered down mud, actually.
It is light-weight and perfectly colorfast, meaning the color you set down is the color it dries to.
I found that applying the mud with a short, stiff-bristled, flat-ended brush works best and provides the most control, allowing you to brush it on a surface or push it into cracks and build it up in corners.
The mud dries fairly quickly depending on how thick you put it on (about an hour or so for a medium thick coat of varying applications). While some modelers may prefer the slightly glossy finish the mud has when dry, I felt a flat finish (using Vallejo Matt Varnish) looks more realistic, at this scale at least.
I used these products with two other Vallejo Weathering Effects (Snow and Crushed Grass) on a recent IPMS build review (Dragon Soviet 76i Self-Propelled Gun), and while this was my first attempt using these effects, I felt the results weren't half bad.
Conclusion
I am really trying to stay with Acrylics across the board and Vallejo's recent weathering effects goes a long way in helping me towards that goal. These Thick Mud products are relatively cheap, colorfast, and easy to use and clean up. As a military modeler, it seems like I never have enough interesting aftermarket products to detail my AFV models, and I am happy to see such a line of excellent effects made available in an acrylic medium. I heartily recommend these products for all modelers.
I would like to thank Vallejo Acrylics for providing these review samples and to IPMS USA for giving me the opportunity to try them out.
Photos